Compare prices on Fondant Roller from top online baking supply retailers. Save big when buying fondant icing decorating equipment.
Roll out fondant evenly, at the perfect thickness for easy cutting and shaping, with this non-stick roller. Roll to the perfect 1/8 in. height used for cutting many fondant decorations, using the slide-on guide rings. This rolling pin is easy to handle - just the right size for preparing small amounts of fondant to place on your cake. Perfect for use with Fondant Multi Packs and Cut-Outs!
Welcome to Fondant Frosting Deals.
Find the lowest prices on Fondant Roller and fondant decorating supplies. We've created a new comparison shopping experience, enabling food artists to easily find the products they want. We've also created separate sections for Tools, Books and Guides, and Cake Pans. You can also compare retail prices to auction prices shown in the sidebars.
So browse around and find yourself some great shopping deals. And don't forget to tell a friend.
Ultimate Fondant Frosting Search
Fondant Roller at Amazon.com
Fondant Roller @ Other Shops
Wilton Ready to Use Roll Fondant White
$7.29
Give your cakes a velvety smooth finish with the Wilton Ready to Use Roll Fondant. This ready-to-use roll fondant adds an attractive charm to your cakes. Simply roll the fondant and cut it into your favorite shapes to create perfect-looking cakes ... [Read more]
Store: Joann.com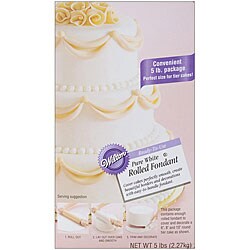 Ready To Use Rolled White Fondant
$46.35 $25.41
No mixing is necessary with this pure white ready-to-use decorating fondant. Five pounds of fondant is enough to cover a 3-tiered cake plus the decorations. No mixing necessary Ready to roll and shape Covers cake with a perfectly smooth iced surfa... [Read more]
Wilton Ready to Use Rolled Fondant-5 lbs.
$22.99
Cover your tier cakes with the rich and smooth Wilton Ready to Use Rolled Fondant. Just roll out this handy fondant and lay it over your cake to cover it from all sides. Trim the extra bit and your layered cake is ready for creamy borders and deco... [Read more]
Store: Joann.com
Wilton Rolled Fondant Neon Colors Multi-Pack
$11.99
Includes 4.4 oz. each: Pink, Orange, Yellow, Purple. Convenient four-pouch assortments of primary, neon, pastel or natural colors are perfect for making multi-colored decorations. The color is already mixed in. no kneading, no mess, no guesswork. ... [Read more]
Store: Joann.com
Wilton W9071010 Fondant & Gum Paste Rolling Pin Guide Rings
$14.26
WILTON-Fondant & Gum Paste Rolling Pin Guide Rings- Eliminate the guesswork when you roll out fondant or gum paste- Slip these easy-to-use guide rings onto the ends of your rolling pin to achieve the perfect even depth every time- Rings fit Wi... [Read more]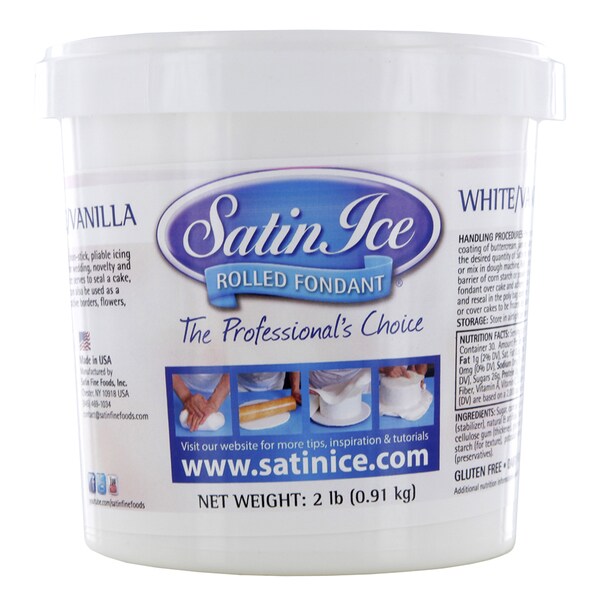 $19.99
Satin Ice White Rolled Fondant Icing is a premium quality, non-stick, pliable icing which may be rolled out by hand using a rolling pin or by a mechanical sheeter. Satin ice produces a satin smooth elegant finish to any cake. Color: White/ vanilla... [Read more]
$11.99
Convenient four-pouch assortments of primary or pastel are perfect for making multi-colored decorations. The color is already mixed in. no kneading, no mess, no guesswork. Great for flowers, borders and fun shapes. The 17.6 oz. package contains fo... [Read more]
Store: Joann.com
Wilton Roll & Cut Mat-Fondant Fun
$10.99
For precise measuring, rolling and cutting of fondant or dough. Pre-marked circles for exact sizing. Square grid helps you cut precise strips. Non-stick surface for easy release. 1. Sprinkle Rolling Pin and Roll & Cut Mat with confectioner's s... [Read more]
Store: Joann.com
$11.99
Convenient four-pouch assortments of primary or pastel are perfect for making multi-colored decorations. The color is already mixed in. no kneading, no mess, no guesswork. Great for flowers, borders and fun shapes. The 17.6 oz. package contains fo... [Read more]
Store: Joann.com