Compare prices on Ready-To-Use Fondant from top online baking supply retailers. Save big when buying fondant icing decorating equipment.
Convenient four-pouch assortments of primary or pastel are perfect for making multi-colored decorations. The color is already mixed in. . . no kneading, no mess, no guesswork. Great for flowers, borders and fun shapes. The 17.6 oz. package contains four 4.4 oz. packs. Certified Kosher.
Welcome to Fondant Frosting Deals.
Find the lowest prices on Ready-To-Use Fondant and fondant decorating supplies. We've created a new comparison shopping experience, enabling food artists to easily find the products they want. We've also created separate sections for Tools, Books and Guides, and Cake Pans. You can also compare retail prices to auction prices shown in the sidebars.
So browse around and find yourself some great shopping deals. And don't forget to tell a friend.
Ultimate Fondant Frosting Search
Ready-To-Use Fondant at Amazon.com
Ready-To-Use Fondant @ Other Shops
Wilton Ready to Use Roll Fondant White
$7.29 $5.47
Give your cakes a velvety smooth finish with the Wilton Ready to Use Roll Fondant. This ready-to-use roll fondant adds an attractive charm to your cakes. Simply roll the fondant and cut it into your favorite shapes to create perfect-looking cakes ... [Read more]
Store: Joann.com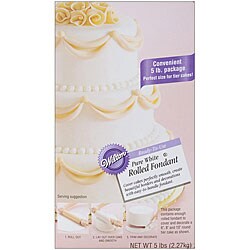 Ready To Use Rolled White Fondant
$33.30 $25.42
No mixing is necessary with this pure white ready-to-use decorating fondant. Five pounds of fondant is enough to cover a 3-tiered cake plus the decorations. No mixing necessary Ready to roll and shape Covers cake with a perfectly smooth iced surfa... [Read more]
Wilton Ready to Use Rolled Fondant-5 lbs.
$22.99 $17.24
Cover your tier cakes with the rich and smooth Wilton Ready to Use Rolled Fondant. Just roll out this handy fondant and lay it over your cake to cover it from all sides. Trim the extra bit and your layered cake is ready for creamy borders and deco... [Read more]
Store: Joann.com
$8.97
Wilton Ready-To-Use Gum Paste: 1 lb Certified Kosher No mixing and no mess Just tint, roll out and cut Create incredible floral bouquets for your cakes Follow the easy instructions included [Read more]
Wilton W707130 Ready-To-Use Gum Paste
$20.51
WILTON-Ready-To-Use Gum Paste, This easy to cut and shape Gum Paste is perfect for making 3-dimensional flowers and figures for any special occasion, Features: ready-to-use; comes in a convenient reseal able zippered bag, Contains 16 ounces, Packa... [Read more]
Wilton Ready to Use Gum Paste-1Lb
$10.99 $8.24
No mixing. Easy to cut and shape 1lb bag " [Read more]
Store: Joann.com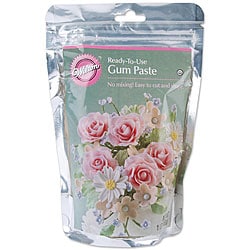 $11.99
This ready to use gum paste will make beautiful 3D figures on your baked goods. This gum paste comes ready to use in a resealable 16-ounce bag. Perfect for making 3D flowers and figures Comes in a resealable zipper bag Contains 16 ounces of paste ... [Read more]
Ready-To-Use Rolled Fondant-Pastel Blue 24 Ounces/Pkg
$7.97
Wilton Pastel Blue Ready-To-Use Rolled Fondant: No mixing necessary-Wilton Fondant is ready to roll and shape Fondant is easy to shape into beautiful borders, flowers and decorations This package contains 1-1/2 lbs of blue fondant and covers and d... [Read more]
Ready, To, Use Rolled Fondant, Pastel Pink 24 Ounces/pkg
$7.97
Ready, To, Use Rolled Fondant, Pastel Pink 24 Ounces/pkg: No mixing necessary-Wilton Fondant is ready to roll and shape Fondant is easy to shape into beautiful borders, flowers and decorations This package contains 1-1/2 lbs of pink fondant and co... [Read more]